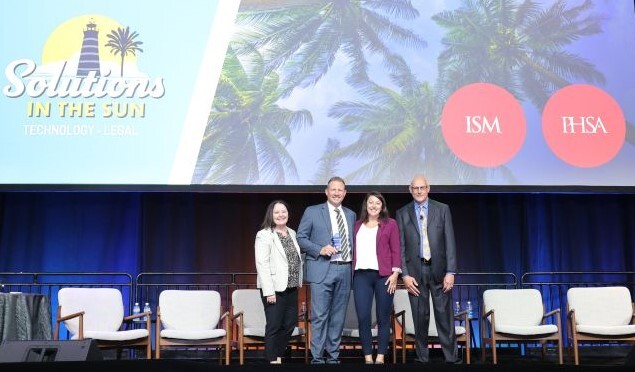 DPSS Acting Deputy Director Michael Sylvester Presented with APHSA Excellence in Leadership Award for Technology
Department of Public Social Services (DPSS) Acting Chief Deputy Director Michael J. Sylvester was awarded the prestigious Jerry W. Friedman Excellence in Leadership Award, presented by the Virginia-based American Public Human Services Association (APHSA), for his understanding of the fundamental role that information technology can play in the health and human services.
Sylvester received the award, named in honor of the late APHSA executive director who held the position for eight years, at the organization's 2023 Education Conference & Expo in Kissimmee, Florida on September 13.
APHSA supports human services agencies nationwide to help advance the well-being of individuals, families, and communities, through collaboration with industry experts. The organization's goal is to modernize and align human services IT systems, performance measurement, data analysis, and workforce development training.
Sylvester was singled out for his forward-thinking mindset of incorporating IT in administration of vital programs and services to DPSS' 3.5 million-plus customers in Los Angeles County.
Since joining DPSS in 2006, Sylvester has served as the Chief Information Officer, providing strategic direction for all technology and automation projects, and leadership over numerous IT investments that have been instrumental in the transformation at DPSS.
"Michael has demonstrated himself to be an invaluable leader and strategic thought partner," stated DPSS Director Dr. Jackie Contreras. "First as an Assistant Director and then as acting Chief Deputy, he makes every effort to ensure I have the information I need to make sound decisions and lead effectively."
From 2018 to 2020, Sylvester assumed responsibilities for the department's Bureau of Special Operations (BSO) overseeing several department programs and services, such as the In-Home Supportive Services Program, Project Management Office, Communications Section, Fraud Prevention, the customer appeals process, and the website portal redesign.
Sylvester's contributions have impacted DPSS operations and improved the lives of millions of underprivileged families, children, single adults, and elderly residents in L.A. County.