DPSSS Announces 25 Community Grants to Promote ARPA Food Assistance Awareness Campaign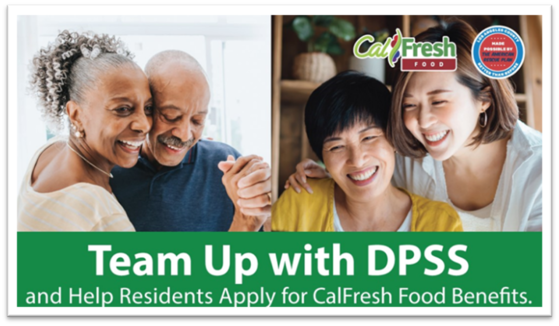 The Department of Public Social Services (DPSS), in collaboration with the federal American Rescue Plan Act (ARPA), announces its partnership with 25 community-based organizations to prevent food insecurity and promote health and well-being by raising CalFresh awareness and enrolling residents in the program.
The partner organizations, selected from across the county, include:
Advanced Healthcare Administrators

Black Lesbians United

California Benefits Support Center

Change Lane Youth Support Services

Chinatown Service Center

Chinese Christian Herald

Circle of Women, Inc.

City of Bell Gardens

Granada on Broadway Outreach Project

Healed Women Heal

Heart of Ida

Kedren Community Health Center, Inc.

Korean American Community Coalition

Korean American Federation of LA

Living Advantage, Inc.

Meet Each Need with Dignity (MEND)

Mexican American Opportunity Foundation

Next Generation Advocates

Open Arms Food Pantry and Resource Center

Pomona Pride Center, Inc.

Project Q

South Asian Helpline and Referral Agency

The LGBTQ Center of Long Beach

The Protestant Episcopal Church in the Diocese of Los Angeles

World Food Bank, Kitchen, and Urban Farm
"CalFresh is the most effective resource we have to ensure no one goes hungry in Los Angeles County," said Los Angeles County Supervisor Hilda L. Solis, First District. "Our community partners play a critical role in getting this message out, which is why I am so pleased to see these unique partnerships move forward."
DPSS was awarded $500,000 in ARPA funds to conduct the Food Assistance Awareness campaign over a period of one year. Each of the 25 selected organizations will receive a $20,000 grant to market CalFresh Program benefits to Asian, Asian Pacific Islander, senior, and LGBTQ+ communities and help them enroll in the program. The organizations will also use BenefitsCal to assist residents and track the number of CalFresh applications submitted.
"So many lives are transformed by receiving CalFresh," said DPSS Interim Director Jackie Contreras. "That's why we're focusing on outreach and enrollment to ensure that every eligible resident receives their benefits as quickly as possible. Working collaboratively with community organizations, government agencies and other statewide partners will help individuals and families receive this critical support."
Food insecurity is defined as a lack of consistent access to enough food for an active, healthy life. ARPA is a $1.9 trillion package intended to reduce the negative impacts of the COVID-19 pandemic on low-income families and individuals. In July 2021, the L.A. County Board of Supervisors approved a plan to strategically use ARPA funds to benefit local communities suffering disproportionately from health and economic conditions due to the pandemic.