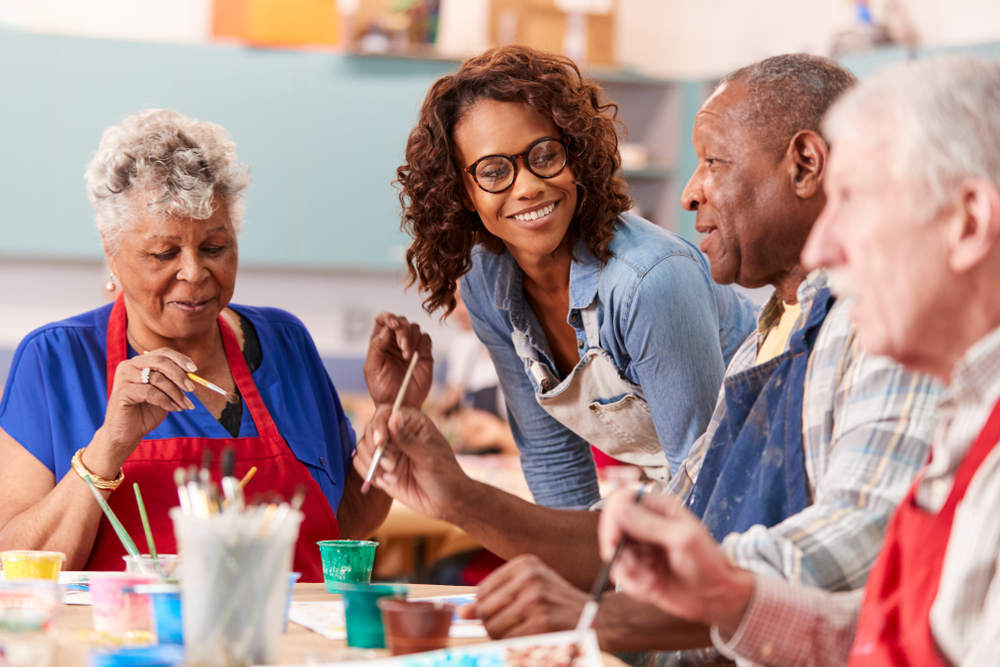 ADDITIONAL LIST OF RESOURCES
These additional resources, independently produced by their respective organizations, may provide services that extend beyond Los Angeles County's services. These lists of resource providers may include community partners, non-profit organizations, and other institutions that support the well-being of older adults. **some of these organizations, programs and services may not be directly affiliated with the County of Los Angeles — consumer discretion is advised.
IN-PERSON INFORMATION SERVICES
Community and Senior Centers
Centers are information hubs for LA county aging services information. Center offers social and recreational space for elder adults. For a list of centers near you, please visit the link above, or call (323) 260-2003 or 211. Feel free to email centers@wdacs.lacounty.gov.
This office within the LA County Department of Public Health provides information to the public and technical assistance to providers on services for older adults.
Serving mostly older adults 55 years old and over, this service Provide Military, Veterans and their dependents (children and spouses) with assistance connecting to their State and Federal benefits.
WEB-BASED INFORMATION SERVICES
Resources for Older Adults
Maintained by the LA County Department of Public Health, this list of older adult services ranges from local non-profit organizations and commercial partnerships, to federal and state agency programs.
Older Adults Resources by LA County Library
List of resources for elder adults curated by the Los Angeles County Library.
Purposeful Aging Los Angeles (PALA)
PALA is a multi-year initiative launched by the County (County) and City of Los Angeles (City) to enhance the region's age-friendliness and prepare for a growing older adult population, which is on pace to double from 2010 to 2030 in the County. To build an age-friendly future throughout our region, the Action Plan outlines strategies across nine (9) domains of livability, as well as cross-cutting strategies that create infrastructure and systems.
INFORMATION SERVICES BY PHONE
Adult Protective Services (APS)
This is a state-mandated 24 hours 7 days a week social services program. APS social workers investigate and respond to allegations of abuse, neglect or self-neglect, and exploitation of elders and dependent adults who live in the community. Emergency situations are responded to immediately. After investigation, a service plan is developed with the client's consent to meet the client's unique needs. For more information, please call (877) 477-3646.
Aging and Adult Services Information and Referral Call Center (AASI&RCC)
Please call (800) 510-2020 or 211 for a centralized call center for aging services and receive one-on-one assistance with a live operator.
CONTACT:
Please call (800) 510-2020 or 211.
Older adults may sign up to receive phone calls with LA County Community and Senior Center staff to ensure overall wellness, support, and greater community. To sign up, please contact your closest Center for more details.
Altadena Community Center: (626) 398-6174
Altadena Senior Center: (626) 798-0505
Antelope Valley Senior Center: (661) 726-4400
Asian Service Center: (310) 217-7300
Centro Maravilla Service Center: (323) 260-2804
East Los Angeles Service Center: (323) 260-2801
Florence Firestone Service Center: (323) 586-6502
Los Nietos Community and Senior Center: (562) 699-9898
Potrero Heights Park Community and Senior Center: (626) 927-5430
San Gabriel Valley Service Center: (626) 575-5431
San Pedro Service Center: (310) 519-6091
Santa Clarita Valley Service Center: (661) 254-0070
Willowbrook Senior Center: (310) 217-5650
211 LA (or 211 LA County) is the hub for community members and organizations seeking all types of health, human, and social services in Los Angeles County. Call 211 toll-free for personalized assistance.
This no-cost health program for doctor visits, emergency room visits, and prescription medications is for low-income older adults who are not eligible for any other coverage or health insurance.